The Mysterious Lady Law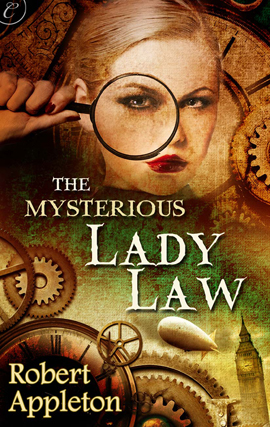 On sale date: Jan 31, 2011
Category:
eISBN: 9781426891151
File size: 311KB
Description
In a time of grand airships and steam-powered cars, the death of a penniless young maid will hardly make the front page. But part-time airship waitress and music hall dancer Julia Bairstow is shattered by her sister's murder. When Lady Law, the most notorious private detective in Britain, offers to investigate the case pro bono, Julia jumps at the chance--even against the advice of Constable Al Grant, who takes her protection surprisingly to heart.
Lady Law puts Scotland Yard to shame. She's apprehended Jack the Ripper and solved countless other cold-case crimes. No one knows how she does it, but it's brought her fortune, renown and even a title. But is she really what she claims to be--a genius at deducting? Or is Al right and she is not be trusted?
Julia is determined to find out the truth, even if it means turning sleuth herself--and turning the tables on Lady Law...
31,600 words
If you like this book, we recommend...

About the Author
While Robert Appleton's favored genre is science fiction, his diverse list of published stories ranges from a Victorian steampunk mystery to a crocodile attack set during WWII (based on true events). He currently writes for several major digital publishers. To date, he has nineteen titles under contract, including three novels and several novellas.
Robert lives in Bolton, Northwest England. When not writing, he loves to kayak whenever he can (not often enough), underachieve at soccer with his long-standing 5-a-side team, and climb the occasional mountain. His favorite authors include Patrick O'Brian, H. Rider Haggard and H.G. Wells. He is also a film buff (with a degree to prove it) who adores Harryhausen, Spielberg and Oliver Stone.
The Mysterious Lady Law is his first title at Carina Press.
To learn more, visit his website, www.robertappleton.co.uk, or swing by his blog, http://robertbappleton.blogspot.com.