Hunting Kat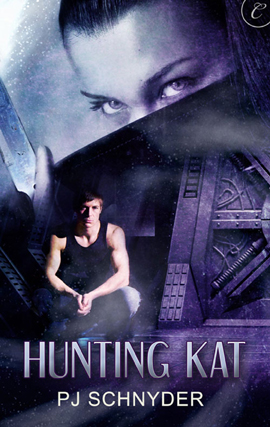 On sale date: Jul 04, 2011
Category:
eISBN: 9781426891847
File size: 402KB
Description
As a mercenary, Kat Darah doesn't have to pass for a normal human. On the edge of the solar system, she's just another biped. Most of the time.
Nearing the end of his military tour, Lt. Christopher Rygard debates the idea of hanging up his uniform for good. Looking for answers at the bottom of a glass of scotch, he meets Kat. One shared night of mutual desire seems harmless. But when their tryst is interrupted by attackers hunting Rygard, Kat must reveal her other form, the predator beneath the human façade.
Together they embark on a dangerous mission--a race against time to meet the enemy's demands, while trying to deny the passion between them. Rygard is faced with a terrible choice in the face of duty: Report the existence of a human turned shape-shifter. Or forget he ever met her.
25,000 words
If you like this book, we recommend...

About the Author
Born and raised in the Northeast, PJ Schnyder spent her childhood pretending to study for the SATs by reading every fantasy and sci-fi novel she could borrow from the local and school libraries. She scored fairly high in the verbal portion.
A decade later, at an anime convention in Seattle, she was introduced to the wonderful world of romance by her best friend.
She now lives somewhere temperate, watching the seasons go by with her dogs and super stealthy ninja kitty, writing her stories.
PJ has multiple titles in print and ebook editions under the Terra's Guardians series at Decadent Publishing as well as the Triton Experiment miniseries with Carina Press.