Aztec Gold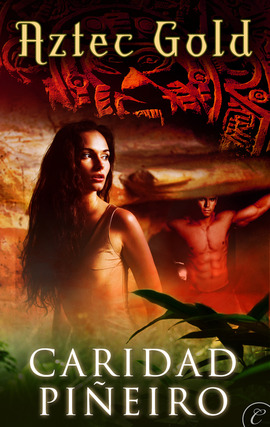 On sale date: Jan 03, 2011
Category:
eISBN: 9781426896675
File size: 498KB
Description
Six months ago, Cynthia Guerrera's lover and fellow archaeologist Rafael Santiago trekked into the Mexican jungle in search of one of the fabled Cities of Gold--and never emerged. Guilty over their parting, Cynthia won't rest until she knows what happened. When the discovery of a conquistador's journal corroborates Rafe's intended path, Cynthia is determined to finally leave the safety of the museum to rescue him, despite the conquistador's dire warnings, and her own traumatic past.
Arriving at a remote village deep in the jungle, Cynthia is both elated and angered to find Rafe alive. But he is far from well, having watched his team be decimated by a bloodthirsty demon-goddess. When Rafe reveals he has been gifted with supernatural powers--powers he plans to use to kill the beast and save his brother, still held captive in the temple--Cynthia must face her own inner demons to fight alongside the man she loves.
35,500 words
If you like this book, we recommend...

About the Author
Caridad Pineiro is the USA TODAY and NY Times bestselling author of twenty novels. In 2007, Caridad was selected as the Golden Apple Author of the Year by the New York City Romance Writers. Caridad's novels have been lauded as the 2001 Golden Leaf Best Short Contemporary Romance, Top Fantasy Books of 2005 and 2006 by CATALINA Magazine and Top Nocturne of 2006 by Cataromance. For more information on Caridad, please visit www.caridad.com or www.thecallingvampirenovels.com.