Sparks in Cosmic Dust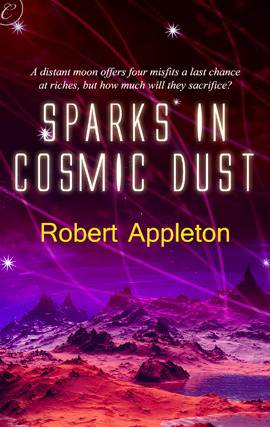 On sale date: Sep 26, 2011
Category:
eISBN: 9781426892318
File size: 830KB
Description
The final frontier is shrinking. Interstellar Planetary Administration sanctions are forcing the border colonies of deep space into extinction. Kappa Max is one of the last major cutthroat outposts, home to the lawless and the lonely...
Varinia Wilcox, the star attraction of a lucrative bordello gambling house.
Solomon Bodine, spurned by his lover and looking for distraction.
Clayton Barry, AWOL and a few drinks away from having to live in the gutter.
Lyssa Foaloak, a double-crossing criminal who'll kill anyone for a few credits.
Four strangers, each with secrets that could cost them their freedom, are desperate to get off-planet. They meet Grace Peters, a cynical ex-doctor with an intriguing offer: a six-month trip to a faraway moon where she claims a stunning fortune awaits.
But this adventure is no easy escape. Danger, passion, secrets and madness await. Can they survive the mission, and each other, to make it out alive?
87,000 words
If you like this book, we recommend...

About the Author
EPIC Award winner Robert Appleton is a British author of science fiction, steampunk and historical fiction. He writes for several digital publishers. Soccer and kayaking are his two favorite outdoor activities. He has traveled far but loves the comfort of reading books or watching movies at home. His mind is somewhat mercurial. His inspiration is the night sky.