Texas Tangle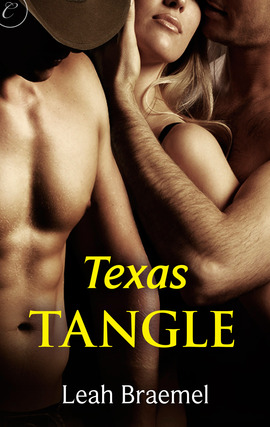 On sale date: Apr 15, 2013
Category:
eISBN: 9781426896095
File size: 430KB
Description
Thanks to her cheating ex-husband and her thieving brother, all horse breeder Nikki Kimball has left is a bruised heart, an overdrawn bank account and an empty home. When sex-on-legs Dillon Barnett and his brooding foster-brother Brett Anderson start showing more than just neighborly attention, Nikki is intrigued...and a little gun-shy.
Dillon and Brett have a history; back in high school, the two friends fought a bitter battle over Nikki. Now, ten years later, Brett still longs to be the man in Nikki's life, but he's determined to stand back and let Dillon win Nikki's heart.
Society says Nikki must choose between the two men she loves. Is Nikki strong enough to break all the rules in order to find happiness?
If you like this book, we recommend...

About the Author
Growing up in rural Ontario, Leah Braemel learned to lose herself in the make-believe worlds she found in her mother's books. At the age of seven, she realized she could write her own stories, and in her early teens she discovered her love of romances. Soon all her stories revolved around giving her heroes and heroines their Happy-Ever-After.
Married to her college sweetheart and the mother of two sons, Leah is the only woman in a houseful of men—even their cat is male. Shoving her writing in the closet while she raised her family, she gained some varied and interesting insights while working with a security firm liaising with Toronto's Emergency Task Force and bomb squad and later teaching computers to women escaping abusive relationships.
After a conversation with her eldest son about how he needed to follow his dreams, Leah decided she needed to follow her own advice and make her own dreams of becoming a writer come true. She was thrilled when her first sizzling romance was published in 2009.
Leah loves hearing from her readers at Leah@LeahBraemel.com. You can also follow Leah on her website, www.LeahBraemel.com.