Tangled Tinsel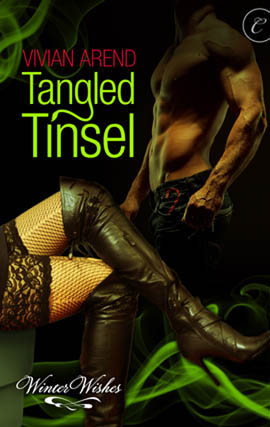 On sale date: Dec 06, 2010
Category:
eISBN: 9781426890918
File size: 423KB
Description
She's the cat's meow, and he's ready to pounce!
Five miles of leather-clad leg is all it takes to lure Kyle Branegan out from his carefully hidden lifestyle as part of the Cougar Corp, a secret branch of the Shifter Enforcer League. He's hoping for a night of fun and frolic, cat-style, no strings attached. With a sultry swing of her hips, Eloise Scott tangles him up in her ball of tricks, and just when he thinks he's about to get lucky, she cuffs him--naked--to her bed.
An undercover cop in the human police force, El's been given a top-secret mission to keep the big cat under her paw until he's needed to testify in court in the New Year. Her decision to take him home for a quiet Christmas in her sleepy hometown turns out to be far more interesting than she expected. Her parents are suddenly rich, her old boyfriend is sniffing around and all six-feet-plus of sexy cougar male is sleeping in her bed.
And that's before they announce their fake engagement...
38,000 words
If you like this book, we recommend...

About the Author
Vivian Arend has hiked, biked, skied and paddled her way around most of North America and parts of Europe. Taking the road less traveled has provided plenty of exciting experiences and outstanding panoramic settings for her stories. Paranormal and red-hot contemporaries, usually in small town or rural locations, are her favorite genres to write.
Vivian lives in Western Canada with her longtime sweetie, two wonderful kids and a dog that looks like a stuffed toy.
She loves to hear from readers. The best place to come and visit is http://vivianarend.com. You can contact her via the link on her website.