Ten Ruby Trick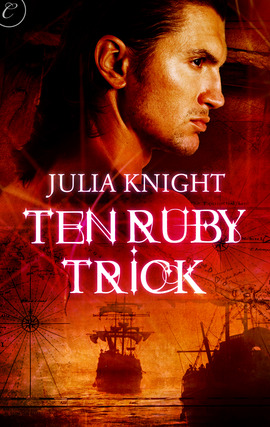 On sale date: Apr 15, 2013
Category:
eISBN: 9781426896149
File size: 778KB
Description
Privateer Van Gast thrills in capturing treasure; delights in pulling off elaborate scams; and has an outrageous reputation with the ladies. But there is only one woman for him: fellow privateer Josie--seductive, brave and unpredictable. He's hoping to make their relationship permanent, until he raids the wrong ship. Now slavers are stalking him, his crew is verging on mutiny and Josie has disappeared.
When she reappears with a new mark wanting Van Gast's help running the ten ruby trick con, he senses trouble. It seems like Josie has joined up with mage-bound slavers to turn him over to their Master. Van Gast is about to take the biggest risk of all--and find out the true meaning of trust and betrayal.
102,400 words
If you like this book, we recommend...

About the Author
Julia Knight lives in Sussex, U.K., with her ever-patient husband, two kids and the world's daftest dog. Her interests include motorbikes (men in leather), the wrestling (half-naked men covered in muscles, sweat and baby oil) and exploring new ways to get a giggle out of life. She was recently diagnosed with bipolar, prompting cries of "Tell us something we don't know" from people who know her, and making sense of much weirdness in her life. It also gives her an excuse when she does something daft. Which is often. Her first book, Ilfayne's Bane, won the 2010 EPIC award for fantasy romance, with the same awesome editor as Ten Ruby Trick. Ilfayne's Bane, together with the sequel Love Is My Sin, and a red-hot historical romance novella—with pirates!—named The Wicked Lady, are available from Samhain Publishing.