Island of Icarus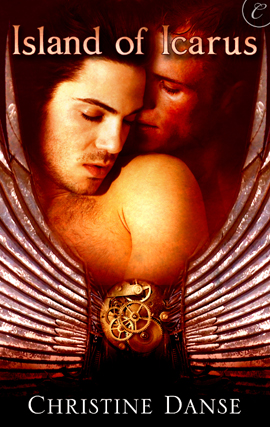 On sale date: Nov 29, 2010
Category:
eISBN: 9781426890802
File size: 485KB
Description
Field Journal of Jonathan Orms, 1893
En route to polite exile in the Galapagos Islands (field work, to quote the dean of my university), I have found myself marooned on a deserted tropical paradise. Deserted, that is, except for my savior, a mysterious American called Marcus. He is an inventor--and the proof of his greatness is the marvelous new clockwork arm he has created to replace the unsightly one that was ruined in my shipboard mishap.
Marcus has a truly brilliant mind and the gentlest hands, which cause me to quiver in an unfamiliar but rather pleasant way. Surely it is only my craving for human companionship that draws me to this man, nothing more? He says a ship will pass this way in a few months, but I am welcome to stay as long as I like. The thought of leaving Marcus becomes more untenable with each passing day, though staying would be fatal to my career...
28,000 words
If you like this book, we recommend...

About the Author
Christine Danse is a native Floridian, a rather rare species of hominid with an aversion to the sun and a love of air conditioning. She has been writing stories of fantasy and the paranormal since she was old enough to hold a pen, and she has been telling them even longer. She is particularly fond of shape-shifters and strange steampunk, although she has yet to write a story that involves both. (The excitement might cause her to spontaneously combust.) She lives in Ft. Lauderdale with her dog, Bait; her best friend, Rhianna; and the two talking cats from whom they rent.